[आवेदन फॉर्म] प्रधानमंत्री किसान सम्मान निधि योजना 2020 – PM सम्पदा योजना Online Registration Form. Pradhan Mantri Kisan Samman Nidhi Yojana 2020 Started from 1 February 2020. सरकार के खजाने से 75000 करोड़ रुपये प्रधानमंत्री किसान सम्मान निधि योजना के लिए खर्च होंगे ! 12 करोड़ भारत के किसानो को मिलेगा इस योजना का लाभ !
PM Kisan Samman Nidhi Yojana 2020 Online Registration
Farmer with Land upto 2 hectare will get 6000 INR Every Year.

12 Crore Farmers will get Benefit of "".

Money will Credited Directly in Bank Accounts.

Scheme Implemented from 1 Dec 2018.

Farmers may apply Online for Kisan Samaan Nidhi Yojana.

Money will start crediting in Farmers Account from March 2020.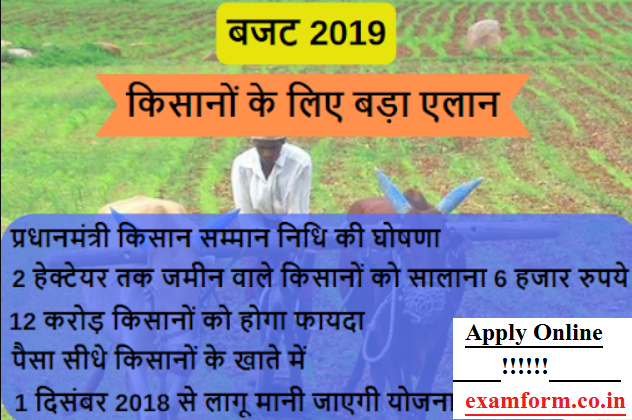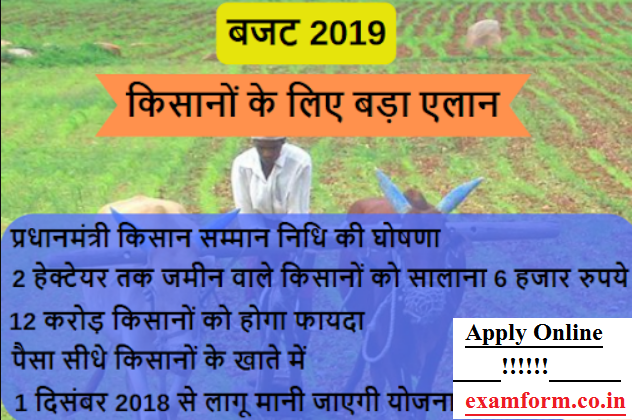 प्रधानमंत्री किसान सम्मान निधि योजना 2020 आवेदन फॉर्म
फसल की msp लगत डेढ़ गुना करने का फैसला सरकार ने 2020 के बजट में लिया !

प्रधानमंत्री किसान सम्मान निधि योजना के तहत 2 हेक्टेयर तक जमीन वाले किसानो को सालाना 6000 रुपये भारत सरकार द्वारा दिए जायेंगे !

12 करोड़ किसानो को होगा लाभ ! योजना के द्वारा मिले पैसे बैंक खातों में सीधे ट्रांसफर होंगे !

किसानो को प्रधानमंत्री किसान सम्मान निधि योजना से मिली रकम किस्तों में मिलेगी !

प्रधानमंत्री योजना को 1 दिसंबर 2018 से लागु कर दिया गया है !
"PM Kisan SAMPADA Yojana" 2020 Online Form
The Prime Minister Kisan SAMPADA (Scheme for Agro-Marine Processing and Development of Agro-Processing Clusters) Yojana was started in August 2017 and is completely farm-focused scheme. The purpose of this scheme is to modernize agriculture methods and reduce the waste of agriculture. The PMKSY Scheme was announced by Prime Minister Narendra Modi by the end of the 14th Finance Commission cycle with the allocation of Rs. 6,000 crores for the period of 2016-20. The implementation of this scheme will be done by the Ministry of Food Processing Industries.
The objective of the property scheme is to build the right management and basic infrastructure for development in agriculture with the help of Modern Infrastructure.

Farmers will get better value for their production and will create employment opportunities in rural India, increase the level of processing and export of processed food items will increase.
Financial Investment:-
PM Kisan SAMPADA Yojana expected to leverage investment of Rs. 31,400 crore for handling of 334 lakh MT agro-produce valued at Rs. 1,04,125 crore, benefiting 20 lakh farmers and generating 5,30,500 direct/indirect employment in the country by the year 2020-20. whereas प्रधानमंत्री किसान सम्मान निधि योजना will give benefit to 12 Crore Farmers of India.
"प्रधान मंत्री किसान सम्पदा योजना 2020"
प्रधान मंत्री किसान सम्पदा (कृषि–समुद्री प्रसंस्करण और कृषि प्रसंस्करण समूहों का विकास) योजना अगस्त 2017 में शुरू की गई थी और यह पूरी तरह से कृषि–केंद्रित योजना है। पीएम किसान सम्पदा योजना की घोषणा प्रधानमंत्री नरेंद्र मोदी ने 14 वें वित्त आयोग के चक्र के अंत में 2016-20 की अवधि के लिए 6,000 करोड़ रुपये के आवंटन के साथ की थी। इस योजना का कार्यान्वयन खाद्य प्रसंस्करण उद्योग मंत्रालय द्वारा किया जाएगा।
इस

योजना

का

उद्देश्य

कृषि

विधियों

को

आधुनिक

बनाना

और

कृषि

की

बर्बादी

को

कम

करना

है।

संपत्ति

योजना

का

उद्देश्य

आधुनिक

बुनियादी

ढांचे

की

मदद

से

कृषि

में

विकास

के

लिए

सही

प्रबंधन

और

बुनियादी

ढांचे

का

निर्माण

करना

है।

किसानों

को

उनके

उत्पादन

के

लिए

बेहतर

मूल्य

मिलेगा

और

ग्रामीण

भारत

में

रोजगार

के

अवसर

पैदा

होंगे

,

प्रसंस्करण

और

प्रसंस्कृत

खाद्य

पदार्थों

के

निर्यात

में

वृद्धि

होगी।
Benefits of Kisan Sampada Yojana 2020
It will result in the creation of modern infrastructure with efficient supply chain management, from farm to retail sales centers.

With this the growth of the food processing sector will increase rapidly in the country.

Also, it will help farmers to get the proper payment for their production and double the income of the farmers.

There will be a major step towards reducing, processing and increasing the level of export of processed food items.
PM Kisan SAMPADA Scheme Online Form 2020 Login
The following schemes will implemented under PM Kisan SAMPADA Yojana:
Mega Food Parks

Integrated Cold Chain and Value Addition Infrastructure

Creation/ Expansion of Food Processing/ Preservation Capacities (Unit Scheme)

Infrastructure for Agro-processing Clusters

Creation of Backward and Forward Linkages

Food Safety and Quality Assurance Infrastructure

Human Resources and Institutions

Operation Greens